4

Bedrooms

4

Bathrooms

8-10

People

186m²

Surface
Exclusive position at the entrance of Sivota bay with yachts passing just beneath your terrace
Immersed in the peace of the hills surrounding Sivota bay, Villa Kastos is a perfect place for enjoying unique holidays in the name of nature, leisure, relaxation and fun. Waking up with the breath-taking view over the bay and the surrounding islands, including Kefalonia and Ithaka, the mythical Ulysses' Island; resting on the terrace, surrounded by Olive trees and the typical Mediterranean maquis, bathing in the infinity pool while enjoying your favourite cocktail, or leaving for an excursion to the gorgeous beaches of Lefkas. These are only a small part of the experiences that will make your holidays unforgettable.
There are only two villas - Villa Kastos and Villa Kalamos - at a 16 000m2 land overviewing the entrance to Sivota bay, with a private parking lot and direct access to the seaside. Rocky stairs will give you easy access to crystal clear seawater. The villas are oriented differently to offer privacy from each other.
Villa Kastos is composed of 2 floors that can also be employed as two independent apartments making it an ideal accommodation for families or groups of friends. A staircase to the 2nd apartment is located outside. Each floor is fully equipped and furnished with, among others, a colour TV, DVD player, Hi-Fi, air conditioning, internet access, washing machine and a full-optional, modern kitchen with a dishwasher, an oven and a microwave oven.
Each of the 2 floors at Villa Kastos (also employable as an independent apartment) has a living room, two bedrooms with a double bed and sea view, two bathrooms and a terrace. A comfortable sofa bed installed in the living room make each floor suitable for up to 2 guests. Altogether Villa Kastos can comfortably accommodate 8-12 people.
A private infinity swimming pool (7,50m x 3,50m; 1-1,80m deep) with beautiful outdoor areas is designed to provide you with space to relax. Whether it's sunrise or sunset hours, or an evening swim, you will be surrounded by just magical views all around you.
Villa Kastos has located just 1,5km from the village of Sivota. Sivota was originally a home of traditional Greek fishermen families who today are offering a different range of services such as fine taverns, bars, bakeries or markets that are available all season long from 8 am until 12 am. You can walk to the village (15-20 min) or go by car (5-8 min). There is a brand new asphalt road connecting the villa and Sivota village, built-in 2020.
Choosing Villa Kastos for your vacation is a lifetime experience. Our selected portfolio of partners is ready to provide quality services such as babysitting, chef at home, massages, yoga, boat rentals (sailing or speedboat), car rentals, mountain biking, sea kayaking, scuba diving or hiking in Lefkada hills. Our team will be available upon your arrival to introduce you to the villa and the Island and will guide you through various activities and sightseeing options you may want to enjoy during your stay.
We are looking forward to meeting you and answering any questions you may have.
Lefkada-Travel team
+ More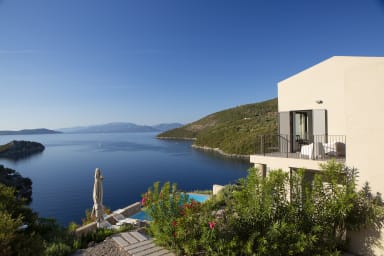 24 Hour Check-in
Air Conditioning
Antique
Art Deco
Atypical
Baby bath
Baby crib
Babysitter recommendation
Balcony
Baroque
BBQ
Bike
Blender
Boat Dock
Books
Ceiling Fans
Cleaning and disinfection
Coffee Maker
Concierge
Contactless check-in and check-out
Contemporary
Daily Maid Service
Dishwasher
Dvd Player
Ecological
Empire
Energy-efficient devices
Essentials
Fire Extinguisher
Fireplace
First Aid Kit
Free Cleaning
Freezer
Fridge
Full Equipped Kitchen
Garden
Gated Community
Gated property
Gloves available
Hair Dryer
Handicap Accessible
Hand sanitizer
Hangers
Highchair
Historical
Hi-tech
Hoover
Ice Maker
Internet
Iron
Jacuzzi
Kettle
Kids Friendly
Kids Pool
Laptop Friendly Workspace
Linen Towels
Long Term Rentals Available
Masks available
Massage On Request
Microwave
Minimalist
Mosquito Net
Music Library
No single-use plastic
No single-use toiletries
Organic food & beverages
Oven
Parking Included
Pets Considered
Infinity pool
Pool Private
Salt-water pool
Private Car Park
Private Chef
Private entrance
Professionally cleaned
Romantic
Safe
Satellite or Cable
Sauna
Sea View
Security System
Smoke Detector
Smoking Forbidden
Social distancing
Solarium
Staff wear protective equipment
Stereo System
Telephone
Terrace
Toaster
Tv
Ventilator
Victorian
Video Library
Vineyard
Washing Machine
Wedding
Wood
Reviews
Christoph S.

Christoph S.

Perfect Lefkada experience!

We had a great stay with two families, 7 people in total. The house is super nice and modern. There is everything you could wish for, kitchen is well equipped, nice bathrooms, mosquito nets on every window, great pool and sun deck... Very cool to have a direct access to the sea. And the view is just stunning! The house was very clean plus we had a mid-term cleaning during which the team did a fresh-up of the whole house and changed towels. The communication with Vassiliki was very pleasant, quick and professional. She gave us a lot of very good recommendations for places to visit, beaches and restaurants. We enjoyed our stay very much!

---

Alistair J.

Alistair J.

Lovely 10 day stay - thank you.

Amazing view, and great location - quiet too (Sivota is an excellent place to have as a base). Lovely to be able to have direct sea access from the villa too. Good staff and helpful communication before and during stay. A few minor gripes during our stay which were in the main addressed by the team. Decor of villa just a bit tired and in need of some tlc to make it perfect.

---

Alexandra K.

Alexandra K.

Wonderful week in Sivota

We have just returned from a really wonderful week in Villa Kastos. It has the most incredible views which made our holiday - you could stare for hours looking out to Ithaca and Kefalonia and watching all the boats come in and out to Sivota. The villa was very comfortable and had everything we needed. We particularly liked swimming in the sea below the villa. Do take rock shoes as the rocks are sharp getting out. Sivota itself is the most magical place, with lots of little Greek tavernas and shops. We rented a little boat one day but otherwise didn't really venture far as we had everything we needed. Vaso and Jerome from Lefkada Travel were hugely helpful with any requests we had and we couldn't fault them. Top tip - park your hire car at the top of the drive just through the gate as the driveway down to the villa is very steep and quite hairy if you have an underpowered hire car like we had!

---

Colin B.

United Kingdom

Colin B.

United Kingdom

Lovely stay at Villa Kastos

I would thoroughly recommend this villa, which is beautifully situated looking over Sivota bay, with out of this world views. The villa has everything you would possibly need and is well appointed. Nice kitchen and lounge, comfortable beds and good showers! It's a little way out of Sivota by road and the road is hilly and winding. Immediate access to the villa is a little tricky at first but once you've mastered it, very straightforward. Staff at Lefkada Travel were very accommodating, communication was good and the welcome warm. We would like to thank Vaso for her attention to our needs. Lovely swimming pool and pool area. Patio and seating area is also very nice. Mosquitoes can be an issue at the time of year we stayed (July) so do take plenty of repellant. You may not prevent being bitten but you are likely to limit the pesky little mites! Sivota itself is a lovely little harbour with some good tavernas and bars and free parking. We had a great week and loved it! Thank you.

---

amy c.

United Kingdom

amy c.

United Kingdom

Sivota bay stay

Lovely villa and gorgeous location. Would have given more 5 stars but there were some minor maintenance issues probably caused by it being the end of the holiday season. The holiday staff were always on hand and always answered any queries we had. Great holiday only spoilt by a local power cut caused by some very bad weather. 😎

---

Deborah S.

United Kingdom

Deborah S.

United Kingdom

Best view ever

The view from the house is its stand-out feature. As well as looking at the islands & the sea I could watch boats coming & going all day. Plus direct sea access via steps from the house is a brilliant feature which we used daily. Also house in good position on island and proximity to charming Sivota. One of our concerns with the close proximity to Sivota was would we suffer from night time noise from the bars etc but the orientation of the house means there is no noise & you can't see Sivota at all. Very steep drive at house not for the faint hearted but is usual for the Ionian Islands. Two separate apartments worked well for our group of 8 affording privacy but still plenty of room to get together in the bottom appartment. Would of liked more outdoor (flat) space round pool for large group although plenty of sun loungers.

---

Guy G.

Guy G.

amaizing villa in syvota

we had beautifull 3 nights in villa miro jerom stuff was very plesent and wellcoming. you wont regrat comming to villa miro in the amaizing island of lefkada

---

ELIZABETH D.

United Kingdom

ELIZABETH D.

United Kingdom

Fabulous stay with Lefkada travel !!!

Lefkada travel were fantastic from start to finish- wouldn't hesitate to book with them again. Stunning Villa in a wonderful location 😍

---

William K.

William K.

Villa kostas

Excellent. Great villa in superb location. Had it all 😎👍

---

Rachel F.

Rachel F.

Wonderful stay!!

We had a fantastic stay in Villa Kastos for a week in June. The villa was well equipped and comfortable for 2 adults and 1 child. We enjoyed the pool and going down the steps for a sea swim! It was a 5 minute drive to Sivota where we found lovely tavernas and shops. Jerome was very helpful and on hand for any queries we had. I would definitely come back to Lefkada Travel for any future trips to Lefkada :)

---

Louise A.

Louise A.

Villa Kastoz

We really enjoyed our stay at villa Kastos. It was modern and clean with an amazing view. The kids never wanted to leave the pool! Thanks for everything Jerome we will be back next year!

---

James B.

James B.

Lovey Stay in Sivota

We enjoyed a very nice week in Sivota at Villa Kastos, some of the best views we have ever had out toward Ithaca. Elena was a great host and very helpful, we would stay again. Note that the sea access would benefit from a bit of improvement ie finish the steps to the bottom, maybe a small platform and it would be easy to add some swimming pool type steps out of the sea as the steps on the rocks can be covered in urchins. Also the path into town is blocked/overgrown so a car is needed.

---

Lore N.

Austria

Lore N.

Austria

Villa Kastos

Very comfortable villa with a beautiful view and easy access to the sea. Very well kept and clean. The Team was always helpful and responsive with any requests we had. Truly enjoyed our stay!

---

Neil C.

United Kingdom

Neil C.

United Kingdom

Villa Kastos

Amazing location and spacious villa. Elena our concierge was lovely and extremely knowledgeable. We had a great week.

---

Patrick R.

Patrick R.

Amazing Villa

Our family of two adults and three adult-ish children loved this place the five nights we were there in mid-June Elena let us in on our first night and gave us an invaluable orientation to the highlights of the island, including her family's taverna in the small nearby hill town of Evgiros. The villa's location is as stunning as it looks in the photos. Ample room inside, loads of deck space outside along with the beautiful pool, and the rugged but entertaining sea access down the pathway all made for a splendid vacation.

---

Beverley G.

Beverley G.

Nicholas R Wakefield

My comments only relate to the property and in no way reflects upon Lekada Travel Sorry to pass this comment but we were without hot water in the ground floor unit for most of our stay which was down to the owners allegedly. The air conditioning did not function properly on the first floor and we had problems with the shutters due to poor maintenance.

---

Papadimitropoulos J.

Papadimitropoulos J.

Villa Kastos amazing villa with an amazing view!

Our 2 families had a great stay in the villa. We loved the private access to the sea for our daily swims. Jerome is very accommodating host and we can't wait to come back to Lefkada. Thank you!

---

Anna B.

Bulgaria

Anna B.

Bulgaria

Wonderful time

We had an amazing time in the villa.

---

Kremena M.

Bulgaria

Kremena M.

Bulgaria

Wonderful stay, exellent equipped house with all needed facilities and the most beautiful view ev...

Wonderful stay, exellent equipped house with all needed facilities and the most beautiful view ever! Highly recommended!!

---

Kremena M.

Bulgaria

Kremena M.

Bulgaria

Perfect stay. We felt in love with this villa and Jarom was the nicest host ever. The house is ve...

Perfect stay. We felt in love with this villa and Jarom was the nicest host ever. The house is very large, modern equipped and with the most beautiful view. Very clean and with all extras you need for the stay. Nice swimming pool too. We had wonderful stay. The last 1km of the road is havy, but not that bad even for sport cars as ours.

---
Show more ↓