Beaches in Lefkada Island


Lefkada Island offers a wide variety of beaches - from small natural beaches to popular long beaches with bars and activities such as paragliding or kitesurfing. From white pebbled to sandy beaches, from beaches with big waves to calm shallow water beaches ideal for families and kids. Beaches on the west side of the island are really impressive due to their deep blue color and amazing sceneries with steep cliffs and huge rocks forming natural islands in the sea. The east side beaches are sheltered from the wind and usually calm and safe - probably preferred by families with small children. Many of the big beaches are offered in boat trips by cruise companies leaving from Nidri/ Vasiliki / Lefkada Town daily.
Popular beaches close to Sivota bay
Afteli beach (7km - distance from Sivota Bay) - closest beach to Sivota bay, tiny little beach with great coast for snorkeling and amazing blue color waters. Right on the beach there is a snack bar and an option to rent sunbeds and umbrellas. Its well accessible by car and convenient for families. A few old fisherman boats park inside the bay and create a romantic atmosphere of this little paradise.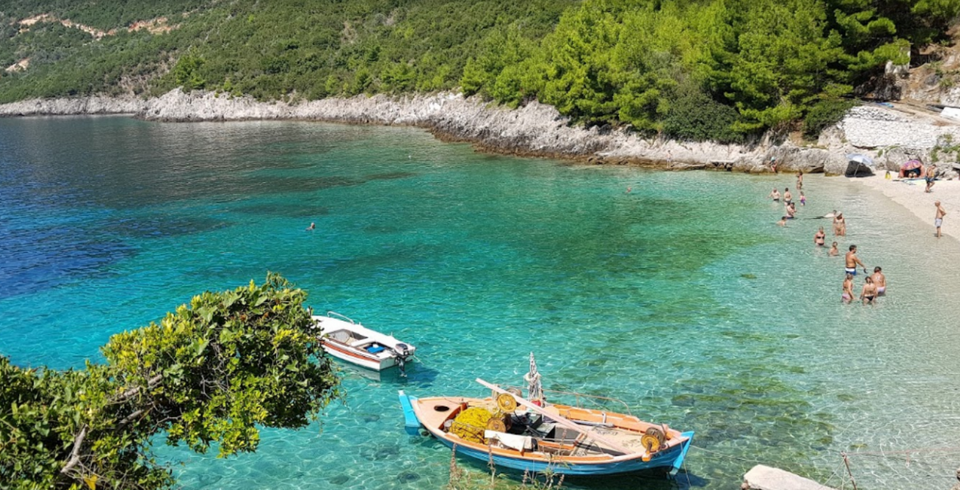 ---
Amouso beach (9km) - white pebbles and a crystal clear blue water, ideal place for families. Large restaurant just next to the beach with good variety of dishes as well as a cocktail bar. Sunbeds and umbrellas available for rent. The beach is very well accessible by car, free parking spot is just next to the beach. For those who like walking there is a path alongside the coast not too frequented by cars that offers nice views. To reach the beach, you will need to take the main road from Sivota towards Vasiliki and in the nearest village of Marandohori you will turn left just behind a market place on your right. There is no sign so you will need to look for the turn. The road then leads you directly to the beach.
---
Agiofili beach (12km) - beautiful turquoise water beach with white stones close to Vasiliki town. It looks like a small Porto Katsiki due to its amazing colors and shape of letter ¨U¨ just below a cliff - exactly like its bigger ¨brother¨ Porto Katsiki. Accessible by boat (cruises from Vasiliki town) or by car by an unsealed road - might be tricky at some parts of the road. Paid parking at the end of the road has been closed in 2018 and the beach is officially accessible only by boat. Some sunbeds and umbrellas are available for rent, bring your own refreshments.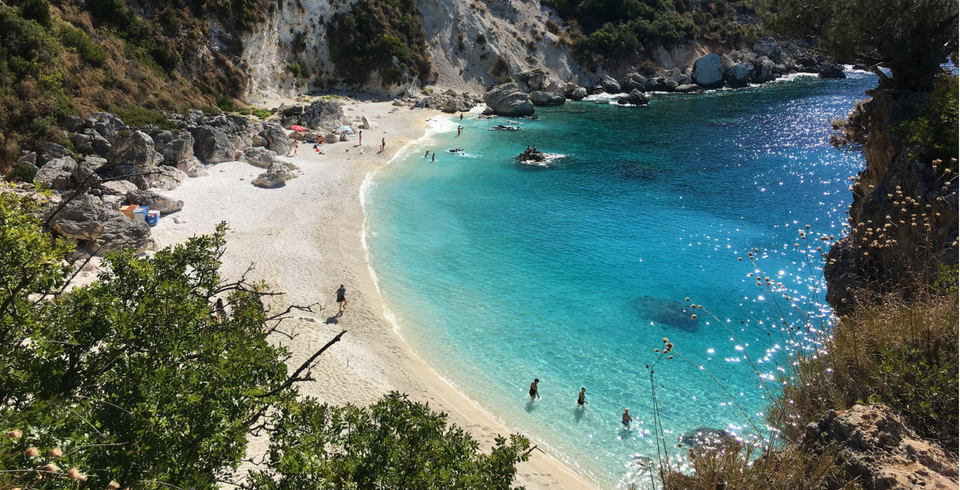 ---
Vasiliki beach (10km) - a long pebbled beach in bay of Vasiliki is famous for its perfect windsurfing and sailing conditions. Water sports facilities and windsurfing clubs renting material are available on the beach. The nearby city of Vasiliki offers a lot of options to eat or to do some shopping.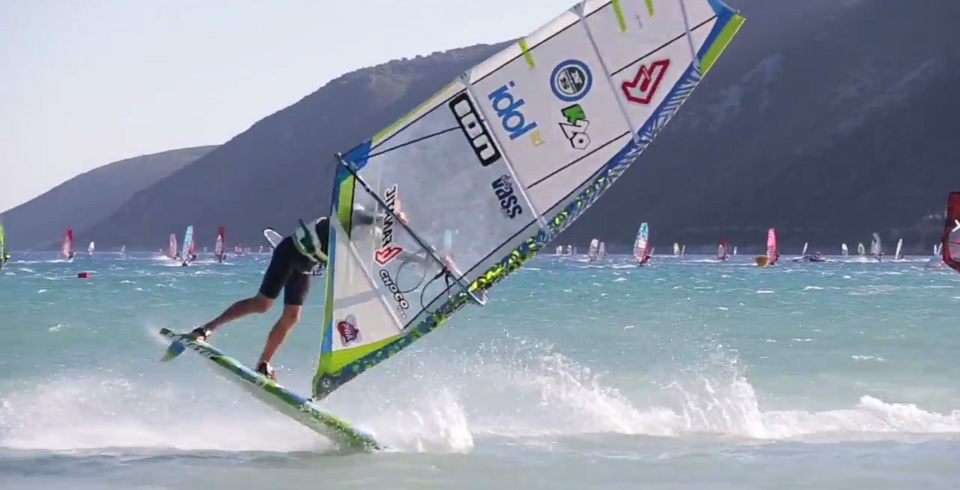 ---
Mikros Gialos Beach (13km) - popular beach on the east coast in Poros bay, close to Sivota bay. Its well protected from winds or waves and the water remind a lake. Pebbled beach with crystal clear waters ideal for families with kids. There are hotels, villas and taverns around the beach. Some sunbeds and umbrellas are available for rent.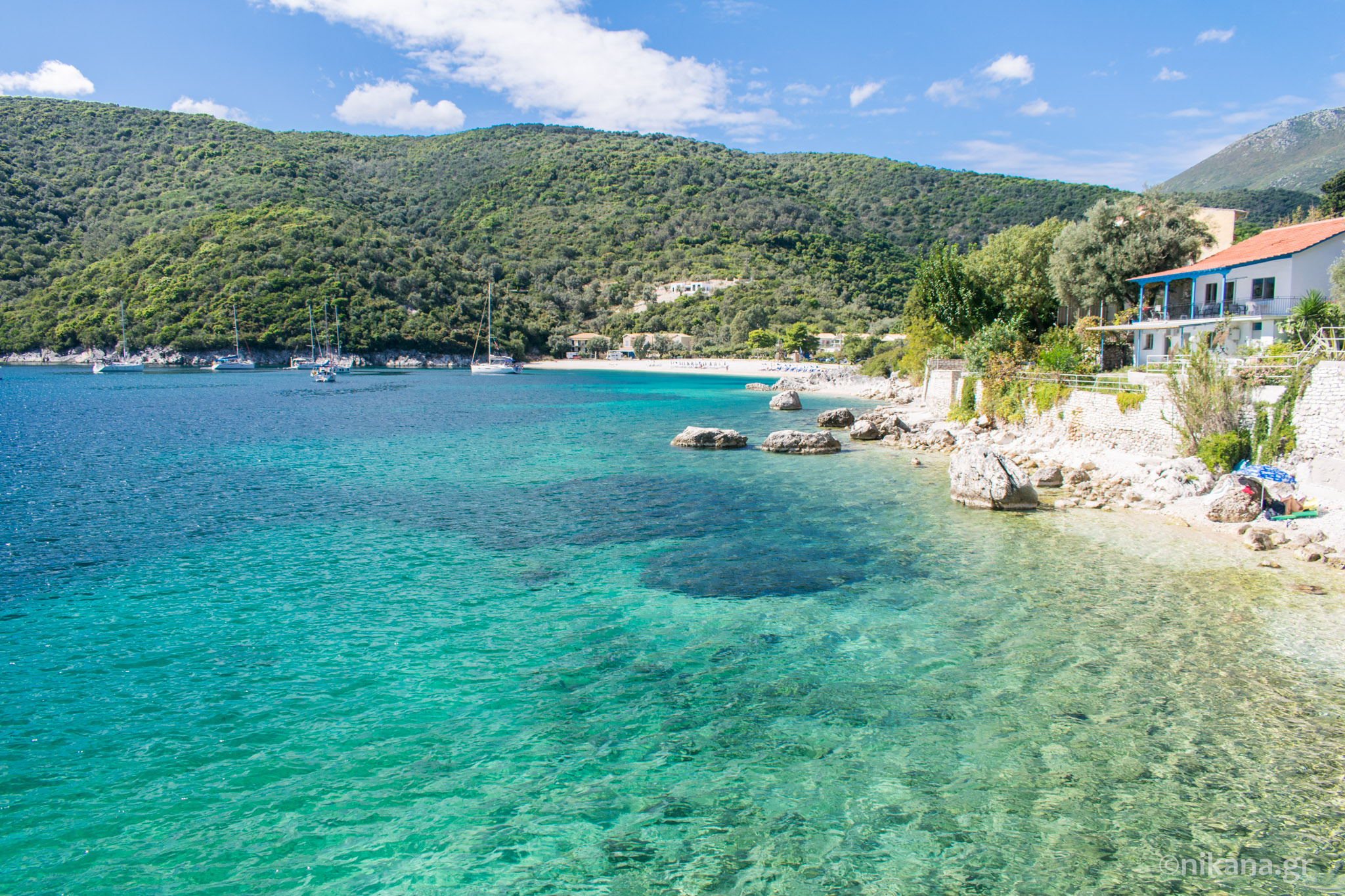 Popular beaches on the West Coast
Porto Katsiki (38km) - the most famous beach of Lefkada Island. Its amazing turquoise waters and big natural cliffs behind you will take you to another world. It can get pretty crowded during the peak season. There is an amazing view of sunset although in the morning you will need to wait for the sun to come only after 10am. The beach is pebbled, it offers sunbeds and umbrellas for rent and even a food delivery. On the left side you can find another beach, completely abandoned - accessible only by boat or by a little swim from the main beach. There is a paid parking on the top of the beach and a steep staircase that will take you down to the beach.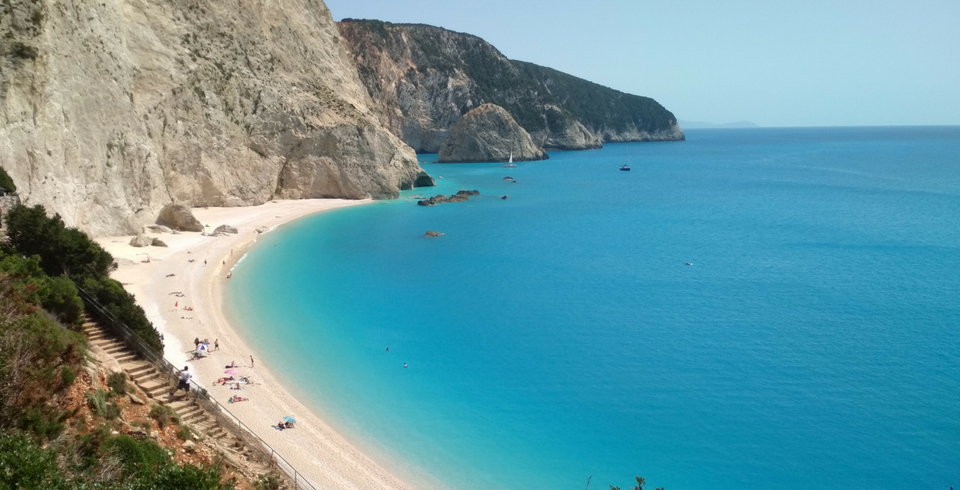 ---
Gialos (31km) - the longest beach of Lefkada. Not as popular as other west coast beaches (but equally beautiful!) and therefore not as crowded. On this beach you can find sunbeds, umbrellas and a cafeteria but also private spots with natural landscape. Its a sandy-shingled mix beach. The access leads 3km down from village Athani. There is enough of parking lots.
---
Egremni (33km) - this amazing long beach with sand/small pebbles is just a paradise you were dreaming of. Its with no doubt one of the most beautiful and famous beaches of Lefkada Island. It used to be accessible by a long staircase (347 stairs) which have been destroyed together with the access road by an earthquake in 2015 and not yet reconstructed (soon to be re-open). Nowadays you can access it by an alternative path through a nearby village - it takes 2-3km of walking. The most convenient access is by boat. Its not that crowded as other beaches thank to its limited accessibility and as well because its almost 3km long. It offers sunbeds, umbrellas and beach bars as well as private natural spots.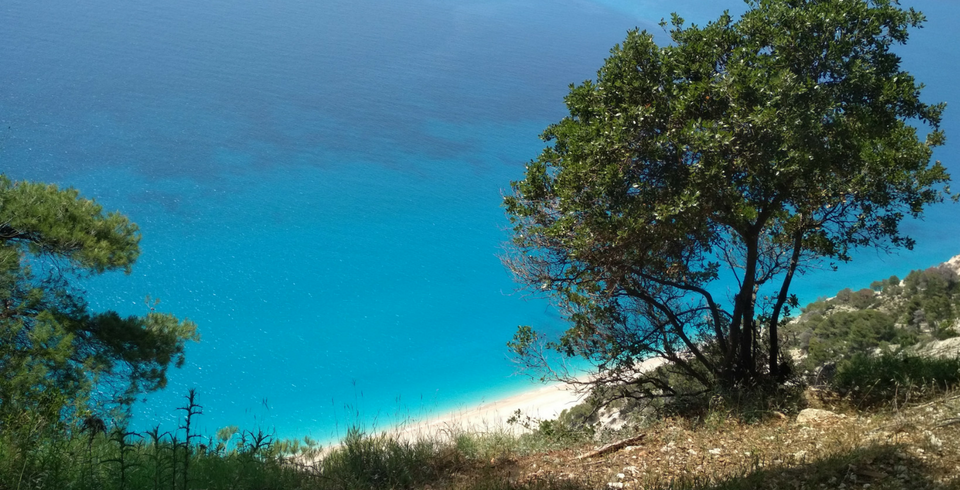 ---
Kavalikefta beach, Avali beach, Megali Petra beach (32km) - three beaches close to each other just under the village of Kalamitsi. Megali Petra is the biggest of them with huge rocks spread along the beach and inside the sea which create amazing scenery for photo shooting. The same applies for its smaller ¨sister¨ Kavalikefta. While Kavalikefta offers sunbeds and umbrellas for rent and has a small cafeteria, Megali Petra is completely natural with no tourist facilities at all. Avali is not so popular among tourist and usually not crowded at all. It offers food and drinks in a nearby cantina, but not sunbeds or umbrellas. All three beaches offer amazing turquoise water, tinny small white pebbles looking like sand from distance and an amazing place for swimming and sunbathing. The access leads through a steep and curvy narrow road from Kalamitsi village for about 4,5km. Its accessible by all kinds of cars, just be careful on the sharp curves.
---
Kathisma Beach (35km) - ¨Little Ibiza¨ of the island. One of the most popular long beaches of Lefkada with amazing blue water and sandy shore. Here you can find activities such as parachuting and various water sports. Beach bars and taverns can be found on the beach as well as various accommodation opportunities nearby. Sunbeds and umbrellas cover most of the beach. Its located close to Agios Nikitas village on the north of the island and the access by car is very convenient - just 1km from the main road. Altogether makes it a frequented location and it can get pretty crowded especially during peak season.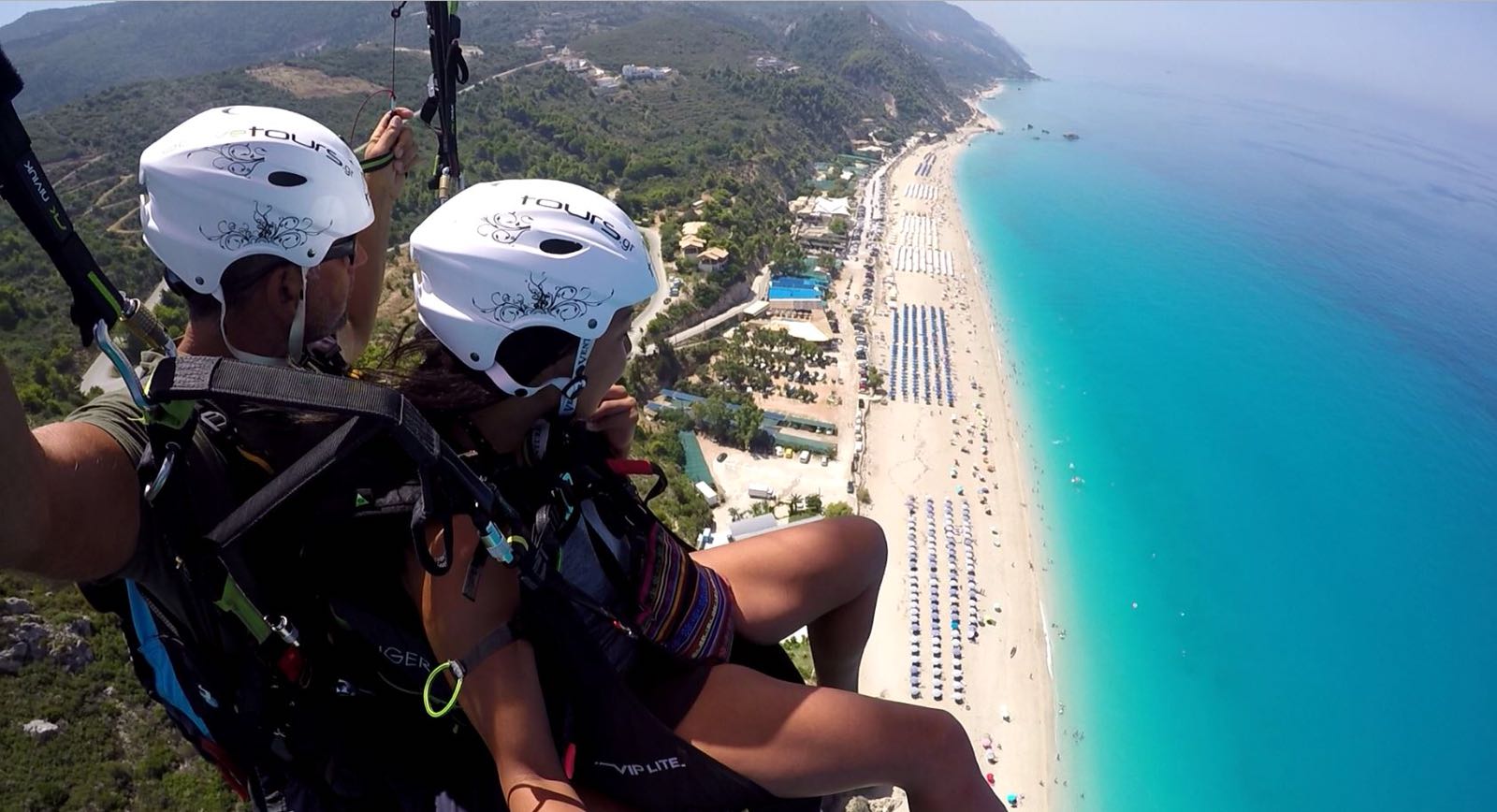 ---
Milos Beach (34km) - a large natural beach close to the famous Kathisma beach. Unlike the other popular westcoast beaches this is an all natural spot unspoiled by touristic activities. Its crystal blue water and sandy cover create ideal conditions for peaceful relaxation. There are no tourist facilities and you need to bring your own water / sunbeds or umbrellas. Its as well nudist friendly. Accessible only by foot or by a water taxi from Agios Nikitas - just a short ride that costs 3euros. If you choose to walk here, you will surely enjoy the beautiful views from above. The walk starts in the pedestrian zone of Agios Nikitas behind a tavern and takes about 15-20min. The path leads on a hill above the village and then starts descending towards Milos beach. The views are rewarding, although you want to avoid the hottest part of the day to do the walk - especially with small kids.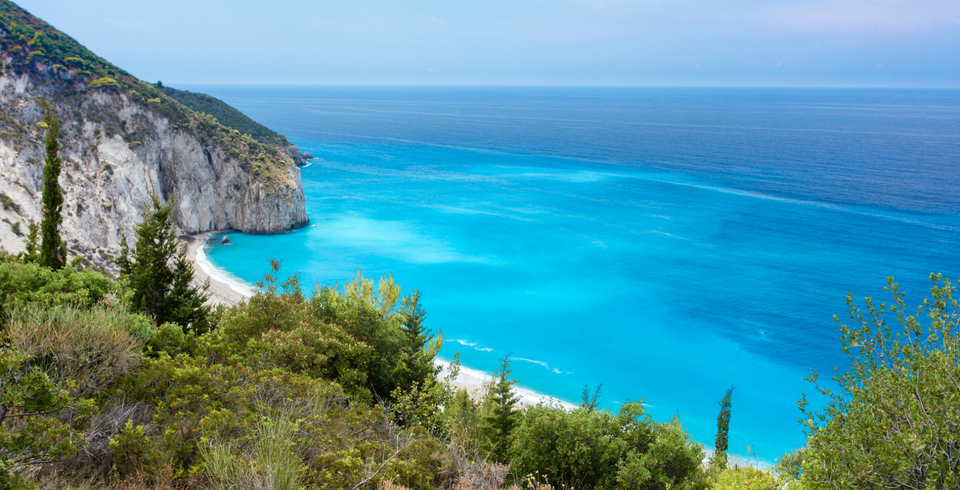 ---
Pefkoulia Beach (39km) - very popular sandy long beach close to Agios Nikitas. Its easily accessible by car (unlike most of the west coast beaches) and thus quite crowded, especially during July and August. Its a large beach with amazing scenery and a few taverns and cafeterias nearby. Some sunbeds and umbrellas are available for rent. A small parking alongside the road and a few parking plots next to the tavernas are available.
---
Agios Ioannis Beach (34km) - beach closest to Lefkada Town, only 3km away. A few kilometers long beach with golden sands, blue green waters and an exotic landscape. Usually it is very windy here and so its a great spot for windsurfing (after Vasiliki) and kitesurfing. Because of the wind and often big waves its not as popular beach for swimming and sunbathing. There are three old windmills and a tiny church in the north part and cafeterias and taverns in the south part of the beach. It offers sunbeds and umbrellas as well as watersports centers nearby.