Villa
2

Bedrooms

2

Bathrooms

4-5

People

1

Wc

110m²

Surface
Ideal for couples, small groups and swimmers - its long pool is just ideal for swimming at any time during the day!
Find yourself in harmony in the natural richness surrounding Villa Massalia. The views are rewarding and peaceful, since a wake up in your bedroom with a panoramic view until an evening cocktail by the pool. The pink-coloured Ionian Islands in the background by sunset will be the cherry on the cake at the end of the day. Take time for yourself and connect with the natural elements surrounding you. Benefit from the combination of tasteful luxury inside nature and fully relax your body, mind and spirit.
Villa Massalia is located almost at the shore of Sivota Bay, about 100m from the sea. It is easily accessible by car from the nearest village of Sivota, which is about 1.5km away. Sivota was originally a home of traditional Greek fishermen families who today are offering a different range of services such as fine taverns, bars, bakeries or markets that are available all season long from 8 am until 12 am. You can walk to the village (15-20 min) or go by car (5min).
Villa Massalia can welcome 4 people in two double bedrooms and potentially 1-2 extra people on a folding bed. This villa is ideal for couples or small groups of friends.
The entrance to the villa brings us straight into a comfortable living room with a fireplace and an open sea view. The kitchen is connected to the living room and is fully equipped; with a detailed focus on the wine tasting experience. A toilet with a sink is at disposal for all your guests on the first floor.
On the second floor, we will find two comfortable en-suite bedrooms with queen-size double beds, our bathroom and a beautiful sea view right from the bed.
The villa has its private infinity pool - lap pool, which is a long narrow pool ideal for swimming, with one part that is wider than a standard pool. A big flat terrace surrounds the pool and offers space for sunbathing on sunbeds with umbrellas or even for practising yoga on a comfortable flat surface. An outdoor pergola with a grill - barbecue - plus an outdoor sitting area for 10+ people makes it an ideal space for meet-ups with friends over a home-cooked lunch or dinner.
An unlimited data wifi internet is available for you during your stay.
Private parking is available in front of the villa with capacity for 2 cars under a pergola with shade and potentially 2 extra cars next to it. The entrance to the villa is gated.
To reach Villa Massalia you need to drive on an unsealed dusty road for about 300m. Normal vehicles can drive and access the villa. You can contact us if you need to reserve a rental car for your stay.
OUR SERVICES
Our team will be available upon your arrival to introduce you to the villa and the Island and will guide you through various activities and sightseeing options you may want to enjoy during your stay. Our cleaning and maintenance team will assure high-quality standards and any services you may need.
Our selected portfolio of partners is ready to provide you with quality services such as babysitting, chef at the villa, massage, yoga class, boat rentals (sailing or speedboat), mountain biking, sea kayaking, scuba diving or hiking in Lefkada hills. Upon your request, we can assist you with booking or recommendations.
COVID Information
In 2020 most of the world faced a new pandemic. To stay in business and propose a safe environment for our guests, we decided to work with a professional company. The company is certified ISO 9001-2015. The products used have been certified by specialised organisms and approved as an efficient solution against the Covid virus.
We follow as well the guidelines from The European Commission. The fumigation process is applied after each guest's departure to ensure the safety of the cleaning team and course of our new guests. These specifics explained the raise in our cost as the safety of our guests is the most important.
99,99% ISO Certified Sanitation by a scientific external partner
Staff protection advanced procedures to avoid contamination and cross-contamination
Well-trained and experienced staff
Certified equipment and detergents
Full documentation and certification are available
Choosing our villa for your vacation is a lifetime experience to enjoy with your family and friends. Lefkada is one of the last Ionian Islands still fairly protected from mass tourism and an over-constructed coastline. Its breath-taking beaches, natural coast and picturesque small villages remain one of the most amazing places to choose to discover in Greece.
We are looking forward to meeting you soon!
Lefkada-travel team
+ More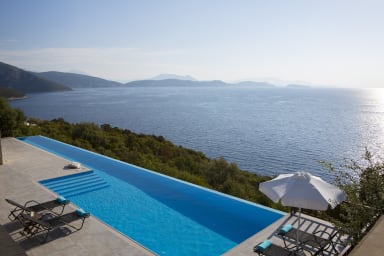 24 Hour Check-in
Accessible car park
Air Conditioning
Antique
Art Deco
Atypical
Baby bath
Baby crib
Babysitter recommendation
Balcony
Baroque
BBQ
Bike
Blender
Boat
Boat Dock
Boating
Books
Ceiling Fans
Cleaning and disinfection
Coffee Maker
Concierge
Contactless check-in and check-out
Contemporary
Cycling
Daily Maid Service
Dishwasher
Diving
Dvd Player
Ecological
Empire
Energy-efficient devices
Essentials
Extra pillows and blankets
Fire Extinguisher
Fireplace
First Aid Kit
Free Cleaning
Freezer
Fridge
Full Equipped Kitchen
Garden
Gated Community
Gated property
Gloves available
Hair Dryer
Handicap Accessible
Hand sanitizer
Hangers
Highchair
Hiking
Historical
Hi-tech
Hoover
Hot water
Ice Maker
Internet
Iron
Jacuzzi
Kettle
Kids Friendly
Kids Pool
Laptop Friendly Workspace
Linen Towels
Long Term Rentals Available
Masks available
Massage On Request
Microwave
Minimalist
Mosquito Net
Mountain biking
Music Library
No single-use plastic
No single-use toiletries
Organic food & beverages
Oven
Paddle
Parasailing
Parking Included
Pets Considered
Infinity pool
Outdoor pool
Outdoor pool seasonal
Pool Private
Salt-water pool
Private Car Park
Private Chef
Private entrance
Professionally cleaned
Rock climbing
Romantic
Safe
Sailing
Satellite or Cable
Sauna
Sea View
Secured parking
Security System
Water skiing
Smoke Detector
Smoking Forbidden
Snorkelling
Social distancing
Solarium
Staff wear protective equipment
Stereo System
Stove
Swimming
Telephone
Terrace
Toaster
Travel cot
Tv
Ventilator
Victorian
Video Library
Vineyard
Wardrobe
Washing Machine
Water sports
Wedding
Windsurfing
Wine glasses
Wood
Reviews
Sonja o.

Germany

Sonja o.

Germany

Einmaliger Aufenthalt

Wir haben jeden Moment genossen. Wir wurden herzlich empfangen! Das Haus lebt von seinem einmaligen Ausblick. Das Haus selber ist von sehr guter Qualität. Die Schlafzimmer bzw. Betten sind sehr gut. Die riesige Terrasse ist sehr schön und besitzt sehr gute Liegen. Die Einrichtung im Haus entspricht leider nicht ganz dem Standard. Die Duschen könnten ein upgrade vertragen. Decken auf den Sitzmöbeln, billigste Toiletteneimer /bürsten und einen sehr klapprigen Sonnenschirm würde ich bei so einem Haus eher nicht vermuten. Aber dies alles verblasst ein wenig, da man sich kaum im Haus aufhält. Wir hatten eine sehr gute Betreuung und Erreichbarkeit! Bei Problemen wurde sich umgehend gekümmert. Und wenn wir das nächste mal wieder da sind, würden wir uns über einen Außendusche sehr freuen und vielleicht über eine French-Press, da es nur eine Kapselkaffeemaschine gibt ;-)

---

Wendy F.

United Kingdom

Wendy F.

United Kingdom

Excellent!!!

We had an amazing stay at Villa Massalia. The views are stunning and truly breathtaking. The Villa is modern and well equipped and has everything you need to enjoy your stay. The infinity lap pool is perfect to swim or just to take in the amazing views. We have loved Lefkada and Villa Massalia and will definitely be back.

---

Felix J.

Switzerland

Felix J.

Switzerland

Perfect summer holidays

We stayed for 1 week and found everything good. The pool was a highlight for us. Questions were answered in a short time.

---

Russell G.

Russell G.

A wonderful week at Villa Massalia!

If you love an amazing sea view then Villa Massalia offers you the best! Together with the extra length swimming pool and the excellent facilities of the villa you rarely need to leave other than to top up food and drink at the lovely nearby villages of Sivota or Vassiliki. We received first class personal service and communication from Jerome and staff at Lefkada Travel throughout, from the villa selection and booking process, to arrival and departure and as required. Highly recommended.

---

David F.

David F.

Review of Villa Massalia

All in all we have a great time at the Villa. The view is fabulous - great to see the whole bay in front of you and always something to see. Pool is great as you can swim lengths, which is a good to be able to counteract the volume of feta cheese! Nice clean, modern and comfortable villa with great views from almost every room. We rent a holiday property on the coast ourselves so I know how much effort goes into renting out this villa, so my points below are meant to be helpful and constructive! 1) Overall the villa feels a little bit unfinished. Pipes for radiators (maybe there's a supply issue?) and bare wires in a few walls. 2) Showers - just never acceptable to have some dirty/mouldy grout or silicon. Just needs re-doing. 3) Planting around outdoor areas - the nicest part of the outdoors it the driveway! The pool and surrounding areas are devoid of any flowers/plants. It's just a bit harsh and could be softened with some plants and colour. 4) Outdoor/pizza oven. A great feature but we didn't use as no instructions or wood or pizza paddle etc...Same with the fire feature, if you're a guest for a week, you don't want to be trying to get wood! 5) Bed location! Can't see the view from any of the beds! What a shame! 6) Clean dusty pool area! Lots of dust on pool side tiles - just needs a full-on clean down. 7) Outdoor Shower!!!! It should surely have an outdoor shower! It would be an amazing feature and very useful to wash off chlorine from pool or salt from beach. It's crying out for it! Villa Balcony (as was) has one and it was a real memory! Hope that's helpful. It's a very special location with a very special view - it could be superb but it's not yet. Wish you and the owners good luck.

---

Mike C.

Mike C.

Beautiful villa and amazing pool

Villa Massalia is a great modern villa with stunning views. The pool is incredible with the swimming lane a must for keen swimmers. It was the perfect villa for us just as Jerome recommended. Vaso at Lefkada Travel was very helpful and answered any queries quickly and smoothly.

---

Vivienne I.

Vivienne I.

Villa Massalia

A perfect Villa with the most incredible views in a quiet location, a short drive down to Sivota Bay where you will find good restaurants beside the sailing ships in the harbour. The Lefkada Travel Team provide a great service, the Villa and Pool were spotlessly clean and as they have an office down at the harbour this makes it easy to contact them face to face with any questions or special requests you may have. Our third stay here and it still has the same magic… Many thanks to you Jerôme and all your Team.

---

Karen J.

United Kingdom

Karen J.

United Kingdom

Karen Johnson-Barr

We thoroughly enjoyed our stay at Villa Massalia & highly recommend both Villa Massalia and Lefkada-Travel. We received the warmest of welcomes from Jerome & fantastic communication throughout our stay. The villa enjoys complete privacy & a stunning view over the Ionian sea. - it's just too good to close the blinds! The villa itself is well laid out, well equipped, immaculately clean and offers complete comfort. The area is fantastic too, the close-by port & village offers plenty of options for dining and the croissants at Sivota bakery should not be missed! Ideal to have a car and a cooler bag as there are some fantastic beaches to enjoy - the best of which is Egremni - it's worth the trek & the steps! You'll not be disappointed! Karen

---

Eduard M.

Netherlands

Eduard M.

Netherlands

Fantastic holiday

We loved to stay at villa Massalia with our two daughters. We loved the unspoiled view over the Ionian Sea from the patio. And we loved the comfort of the villa. It's location is breathtaking. Sivota is just around the corner and is very laidback and relaxed. Enjoy diner or lunch while the sailboats visit the harbour. Jerome thank you very much for your kindness and hospitality.

---

George I.

George I.

Villa massalia lefkada

cons: not worth the money! bad road! small bathroom! sloppy outdoor areas! positives: great construction! great view! great Jerome!

---

Helen N.

Helen N.

Helen

Our second time in VIlla Massalia! A magnificent Villa with incredible views. Jerome a prefect host once again making sure everything is just right and answering all questions. Thank you for making us welcome! Helen

---

Jonny H.

Jonny H.

Mr & Mrs Jonathan Holden

Excellent as always

---

Michael N.

Michael N.

Excellent stay

Great villa with a fantastic view.

---

Vivienne I.

Vivienne I.

A Unique Villa

Villa Massalia is a unique Villa; its privacy and outstanding views provide the opportunity for complete relaxation. Lefkada Travel ensured that the Villa was spotlessly clean and a spare set of bedlinen, bathroom and pool towels were left in the Villa for us given the current COVID restrictions. We cannot thank Jérôme, CEO of Lefkada Travel, enough for all his efforts to ensure our stay was perfect in every way. We would highly recommend Lefkada Travel and Villa Massalia.

---

Helen N.

Helen N.

Helen

Amazing villa!! Incredible views and so peaceful. Pool is fantastic and outside area perfect. Villa is modern. AC works well. Excellent, personal and friendly service from Jerome and Elena at Lefkada Travel. Rent a car or quad bike to go down to the charming port for shops and restaurant. We will come back here!

---

Stratos M.

Greece

Stratos M.

Greece

Visitor

Oct 2019 - Excellent Experience

---

Agnieszka A.

Agnieszka A.

Another amazing holiday in Greece.

This is the second time we used Lefkada Travel for our holiday in Lefkada. This was no different than the first holiday, just AMAZING. We were dealing with Elena this time around and we want to thank her for such amazing care and effort she made sure our stay was as good as possible. The Villa Massalia is a beautiful villa located in our favourite location Sivota Bay. We stayed for two weeks and the villa has everything you need to make it your home for your holiday. The views are spectacular and the best thing is the pool. Thank you Lefkada Travel for our superb holiday and we will see you again soon!

---

Josephine H.

United Kingdom

Josephine H.

United Kingdom

A Wonderful Week

Villa Massalia was everything we had hoped it would be. The views from the master bedroom, sun terrace and infinity pool are absolutely breath taking. In fact the photos online do not do it enough justice, you have to be there to believe it! You have a wonderful 180 degree panoramic view of the bay and local islands, which seems to constantly change through the day, as the sun moves round, whilst you watch an ever changing scene of pretty white boats and yachts sailing by. The pool is incredible and you can easily lose days playing and swimming there. Jerome and Elena were great hosts and made sure that we had and knew everything we needed for an enjoyable stay. Sivota Bay itself is very charming and pretty with an impressive marina for such a small bay. There are enough restaurants to ensure you have a varied choice over your stay too. Checkout Sivota Bakery - a must for a fabulously indulgent breakfast. Whilst we we there we took the opportunity to hire a private boat with a skipper to sail around the local islands. This was definitely a highlight of the week; diving off the boat into turquoise waters and snorkelling to the more remote and secluded beaches. We stayed here with our two young daughters and had a truly lovely time. No doubt we will return at some point in the future. Many thanks again Lefkada Travel! :)

---

Sarah B.

Sarah B.

Beautiful villa, amazing pool!

A beautiful, clean villa with stunning views. The pool is awesome, big enough for proper swimming.

---

Vivienne I.

Vivienne I.

Mrs Vivienne Irons

Villa Massalia was an absolutely perfect Villa for my husband and I to celebrate our 30th Wedding Anniversary. The views are utterly stunning, a 180 degree of uninterrupted view of the sea, boats and islands in the distance; even more breathtakingly beautiful than the photographs online, which in themselves are amazing enough! Lefkada Travel did everything possible to make sure our stay was perfect. The villa was in immaculate condition, very well stocked with fabulous high quality bedlinen and towels. The main bedroom is incredible, it juts out from the building giving an illusion when in bed that you are literally in the middle of the sea surrounded by sea on all sides. We left the blinds open and went to bed under the stars and woke up to the sunrise, very romantic. The pool was literally out of this world! It is great for exercising as the swimming lane is a great length and when resting looking out over the sea you really do feel like you are in the middle of nowhere. The villa is situated in the middle of a hill just on the side of Sivota Bay and so is completely private but yet only less than a 5 minute drive down to the harbour of Sivota. Sivota Bay itself is edged with about 5 restaurants, a Cocktail Bar, Bakery & Grocery Shop; small enough to feel relaxed but enough choice every evening. The harbour is lined with sailing boats as this is a very popular destination for mooring up but this just adds to the character of Sivota Bay which is a much more casual and relaxed harbour than others we have visited in Greece. A HUGE thank you to Jerome and Elena from Lefkada Travel, they are charming, extremely informative and very well organised, you will be in safe hands if you book a villa through Lefkada Travel, we cannot recommend them enough.

---
Show more ↓