Villa
2

Bedrooms

2

Bathrooms

6

People

125m²

Surface
Exclusive position at the entrance of Sivota Bay with yachts passing just beneath your terrace
COVID Information
In 2020 most of the world faced a new pandemic. In order to stay in business and propose a safe environnement for our guests, we decided to work with a professional company. The company is certified ISO 9001-2015. The products used have been certified by specialised organism and approved as an efficient solution against Covid virus.
We follow as well the guidelines from The European Commission. The fumigation process is applied after each guest departure to ensure the safety of the cleaning team and of course of our new guests. These specifics explained the raise of our cost as the safety of our guests is the most important.
99,99% ISO Certified Sanitation by scientific external partner
Staff protection advanced procedures to avoid contamination and cross contamination
Well trained and experienced staff
Certified equipment and detergents
Full documentation and certification available
Immersed in the peace of the hills surrounding Sivota bay, Villa Kalamos is a perfect place for enjoying unique holidays in the name of nature, leisure, relax and fun. Waking up with the breath-taking view over the bay and the surrounding islands, including Kefalonia and Ithaka, the mythical Ulysses' Island; resting on the terrace, surrounded by Olive trees and the typical Mediterranean maquis, bathing in the infinity pool while enjoying your favorite cocktail, or leaving for an excursion to the gorgeous beaches of Lefkas. These are only a small part of the experiences you will make your holidays unforgettable.
So close to the seaside that you can hear the sound of the sea waves, your stay at Villa Kalamos will be just like a boat cruise, but with your feet remaining on solid ground. There are only two villas - Villa Kastos and Villa Kalamos - at a 16 000m2 land overviewing the entrance to Sivota bay, with private parking lot and direct access to the seaside. A ladder will give you easy access to the crystal clear sea water. The villas are oriented differently to offer privacy from each other.
Each of the 2 floors at Villa Kalamos (also employable as independent apartment) has a living room, one bedroom with double bed and sea view, a bathroom and a terrace. A comfortable sofa bed installed in the living room makes each floor suitable for up to 4 guests.
Each floor is fully equipped and furnished with, among others, color TV, DVD player, Hi-Fi, air conditioning, internet access, washing machine and a full-optional, modern kitchen with a dishwasher, an oven and a microwave oven.
A private infinity pool (7,50m x 3,50m; 1-1,80m deep) with beautiful outdoor areas is designed to provide you space to relax yourself. Whether its sunrise or sunset hours, or an evening swim, you will be surrounded with just magical views all around yourself.
Villa Kalamos is located just 1,5km from the village of Sivota. Sivota was originally a home of traditional Greek fishermen families who today are offering different range of services such as fine taverns, bars, bakeries or markets that are available all season long from 8am until 12am. You can walk to the village (15-20 min) or go by car (5-8 min). There is a brand new asphalt road connecting the villa and Sivota village, built in 2020.
To choose Villa Kalamos for your vacation is a lifetime experience. Our selected portfolio of partners is ready to provide quality services such as babysitting, chef at home, massages, yoga, boat rentals (sailing or speedboat), car rentals, mountain biking, sea kayaking, scuba diving or hiking in Lefkada hills. Our team will be available upon your arrival to introduce you the villa and the Island and will guide you through various activities and sightseeing options you may want to enjoy during your stay.
We are looking forward to meeting you and answering any questions you may have.
Lefkada-Travel team
+ More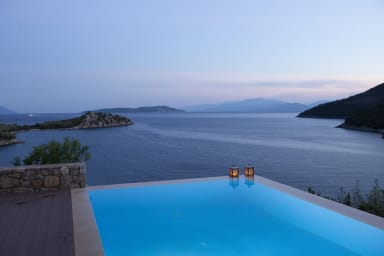 24 Hour Check-in
Air Conditioning
Antique
Art Deco
Atypical
Baby bath
Baby crib
Babysitter recommendation
Balcony
Baroque
BBQ
Bike
Blender
Boat Dock
Books
Ceiling Fans
Cleaning and disinfection
Coffee Maker
Concierge
Contactless check-in and check-out
Contemporary
Daily Maid Service
Dishwasher
Dvd Player
Ecological
Empire
Energy-efficient devices
Essentials
Fire Extinguisher
Fireplace
First Aid Kit
Free Cleaning
Freezer
Fridge
Full Equipped Kitchen
Garden
Gated Community
Gated property
Gloves available
Hair Dryer
Handicap Accessible
Hand sanitizer
Hangers
Highchair
Historical
Hi-tech
Hoover
Ice Maker
Internet
Iron
Jacuzzi
Kettle
Kids Friendly
Kids Pool
Laptop Friendly Workspace
Linen Towels
Long Term Rentals Available
Masks available
Massage On Request
Microwave
Minimalist
Mosquito Net
Music Library
No single-use plastic
No single-use toiletries
Organic food & beverages
Oven
Parking Included
Pets Considered
Infinity pool
Pool Private
Salt-water pool
Private Car Park
Private Chef
Private entrance
Professionally cleaned
Romantic
Safe
Satellite or Cable
Sauna
Sea View
Security System
Smoke Detector
Smoking Forbidden
Social distancing
Solarium
Staff wear protective equipment
Stereo System
Telephone
Terrace
Toaster
Tv
Ventilator
Victorian
Video Library
Vineyard
Washing Machine
Wedding
Wood
Reviews
Susan L.

Susan L.

Susan Laisen

We have had the most wonderful holiday at villa Kalamos. The accommodation layout very much suited our requirements. Extremely comfortable and functional. The view -what can I say…. simply breathtaking, could never tire of such an outlook. Access to the sea we used regularly and was an added bonus of this villa's location. We loved every minute & are booking to come back already. Sivota bay has all the shops & restaurants you need. Sivota bakery is a must. Jerome has to have a special mention. Having rented villas in other countries we have never experienced the service Jerome provided. Very hands on if you need anything or have any concerns. He certainly went above & beyond to make sure our holiday was as enjoyable as it was. Thank you Lefkada Travel.

---

Sean R.

United Kingdom

Sean R.

United Kingdom

A secluded villa, with a breathtaking view

A peaceful week of rest, in a lovely secluded villa, which is well equipped with everything you would need for a break away. The host, Jerome, was very accommodating and helpful with the local area. Sivota bay, which is a short drive or 30 minute walk away, has plenty of tavernas, serving fresh seafood and Greek cuisine, all overlooking the bay. A great place to grab a drink and watch the sailing boats, or even rent a boat yourself. The view from the villa will absolutely steal the show! It's as picturesque as you could imagine an opening to a bay; a great place to relax and have a wonderful holiday.

---

Sarah T.

Sarah T.

Villa Kalamos

Such a beautiful place to stay with a breathless view. Can't wait to return. Sarah

---

Richard L.

Richard L.

Amazing Holiday

This was the second time we've holiday'd with Jerome and once again were not disappointed. Kalamos is out of this world, the views are spectacular, the outside space is vast and there are so many places to chill, by the pool, on the terrace and of course indoors. The sea access is fantastic and the pool with its amazing backdrop is stunning. We will definitely be heading back to Kalamos as it's a beautiful space in a fantastic location close to the wonderful village of Sivota. Perfect holiday and we can't wait to return.

---

Charlotte H.

Charlotte H.

Paradise

The view from the villa is absolutely stunning. Syvota bay, the shops and restaurants are friendly and great food. Elena and Jerome couldn't have been more helpful. We will be back next year.

---

Claudio R.

Claudio R.

Fantastica vacanza!

Tutto perfetto, fin dall'accoglienza di Elena - ci ha atteso a Syvota ed accompagnati in villa - che ci ha dato tutte le indicazioni per godere della villa e delle varie amenità in zona, oltre ad una totale disponibilità per qualsiasi esigenza. La villa rispetta in pieno le aspettative, le foto sul sito sono vere al 100 per 100 ( ma dal vivo è tutto MOLTO più bello!) In casa c'è tutto quello che serve per una comoda permanenza, ma il piatto forte è l'esterno: terrazza meravigliosa sul mare, che guarda verso l'ingresso del fiordo di Syvota, una piscina a sfioro con denti a vista, discesa a mare comoda ed esclusiva...cosa vuoi di più dalla vacanza a ferragosto? Che dire....tornerò sicuramente l'anno prossimo!😃

---

Jonny H.

Jonny H.

Villa Kalamos - Sivota bay, Lefkada

A gorgeous villa with stunning views and the Lefkada Travel team couldn't have been more helpful. Looking forward to returning next year.

---

Flavius K.

Ireland

Flavius K.

Ireland

Superb

Excellent villa,close to the sea with stunning views and very private.The villa is well equiped with everything you would need in your holiday .You can swim in the pool or you can go down the stairs(path) and swim in the sea.We enjoy it a lot,we will definetely come back again ! Thank you Jerome and Elena !

---

Martina W.

Switzerland

Martina W.

Switzerland

Villa Kalamos

Very, very nice place to stay!

---

michael S.

United Kingdom

michael S.

United Kingdom

Stunning view in a quiet location.

We really enjoyed the peace and privacy of this Villa. We had a wonderful welcome from the villa management, including a detailed brief of interesting places to visit and eat at. If you are looking to get away from it all I would definitely recommend.

---

Agnieszka A.

Agnieszka A.

What an amazing place

Villa Kalamos was the perfect home for us for the 10 days we stayed in Lefkada. It has everything you need and more to have the most amazing, relaxing holiday in the comfort of what the villa has to offer. The view is spectacular, you can seat outside and stare at the view for hours. The location is really good, you are closed to a small town ( around 5 minutes drive) which has shops and restaurants. You are also around 25 minutes drive from Nidri which is has a nightlife and a lot of different attractions. We were welcomed at our arrival in the villa, the team and especially Jereme were amazing, we want to thank you for your hospitality. They made us feel very welcome and like at home. We are now back at work but left with the most amazing memories and pictures to remember our holiday in Villa Kalamos forever. Many happy memories... We will be back for sure!

---

Karen C.

Israel

Karen C.

Israel

Paradise

It is the second year we spend ou summer vacation in Villa Kalamos and it is a paradise on earth! The house is modern, well equiped and the view is just amazing! Having a coffee every morning with this view is just a dream come true.Jerome is amazing, very friendly and takes care of every problem immediately,he is very professional and on top of it an amazing person that we got the chance to get to know those 2 years.

---

Assi N.

Israel

Assi N.

Israel

Unbelievable

This villa is absolutely remarkable. Perfectly located over the Sivota bay with a breathtaking view. The swimming pool is fantastic. Not too big, but fun and great for relaxing above the beautiful sea. Inside the villa everything is brand new, well equipped and spacious. Terrace is great as well. The only remark is that sofa wasn't comfortable enough for sleeping. The road to the villa becomes very steep at the end. It seems at first a bit scary, but afterwards no problem at all. Jerome and Elena the host are very friendly and helpful. We would definitely like to return...

---

Silje K.

Silje K.

madam Oslo

It was a great experience to stay at Villa Kalamos. When we arrived we realized that the reality was far better than what the pictures showed. The view was magificent, the pool lovely and the villa very delicate. As there are only 3 bedrooms in the house, it is best suited for 6 people. The road down to the villa is in bad condition, and it is not recommended to drive down in the dark. We highly recommend the villa and would love to come back another time.

---

Jenny J.

Jenny J.

Wonderful

we two and our 15 and 13 year old girls have 10 dreamlike beautiful days in the villa. The villa is even nicer than the photos on the internet. the villa and the pool was regularly cleaned. To swim in the pool is an experience and the view of the sea indescribably beautiful, our views always went back to the sea. A big thank you goes to Jérôme for his attention, an orgination for an unforgettable boat day and a ride on the beach. A rental car is necessary to explore the beautiful island. the nearest supermarket is 4 km away. in the small town Syvota it is about 2 km, there are some travenen and bars. we will definitely be back. many greetings Jenny

---

Wolfgang O.

Wolfgang O.

Schönes Haus in toller Lage

Im August 2017 verbrachte ich mit meiner Familie zwei sehr schöne Wochen in diesem Haus. Es ist absolut neu, hat große Fensterflächen, eine mindestens 30 m² große Terrasse und befindet sich auf einem Logenplatz oberhalb der Bucht von Sivota. Die gleiche einmalig schöne Sicht genießt man vom Infinity-Pool und angrenzender Liegefläche. Beim Abstellen von kleinen, kaum nennenswerten technischer Problemen, war Jerome stetes bemüht. Wolfgang O.

---

Pericles L.

United States

Pericles L.

United States

Villa Kalamos

Our stay at Villa Kalamos in Lefkada was amazing. Beautiful home! Very clean, all amenities available, (washing machines, microwave, coffeemaker, dishwasher) on both floors, (apartments) Jerome is pleasant, friendly & very helpful. He was always readliy available when we needed him! We will definitely visit & stay at Vila Kalamos in Lefkada again.

---

Sarah B.

Sarah B.

Mrs Sarah Barter

Absolutely beautiful villa in an amazing setting. Awesome holiday, we'll be back.

---

Neil M.

United Kingdom

Neil M.

United Kingdom

Amazing Villa

We were greeted by Jerome who was superb, he couldn't have done anymore for us. Very friendly, knowledgeable and kind man. The drive up to the villa from the main road was very bumpy but we have been on worse roads and we got used to it after a few days. The villa itself was perfect. Perched on the side of the cliff with views over to the local village port of Sivota and out to sea towards Meganissi and Kefalonia. We spent hours just looking at the scenery and sometimes at night staring at the stars through binoculars. Inside was modern, clean and brand new, just to our taste as we are not fans of the rustic traditional type villas. We had everything we needed and Jerome kindly organized a baby cot and high chair for our 6 month old child. The bedroom was pretty small but the rest of the villa was spacious and we had the upstairs apartment to watch TV upon an evening if we didn't want to disturb the little one. We met the owners one day and they were very nice too. This was our second time in Sivota but the first in this villa. We would definitely return.

---

Simon H.

Simon H.

This was a last minute booking only 2 days notice. The Villa turned out to be an amazing choice i...

This was a last minute booking only 2 days notice. The Villa turned out to be an amazing choice in a fantastic location with a pool looking out over Sivota Bay with amazing views. With steps also leasing to the sea giving you the option to swim in the pool or take a dip in the sheltered bay. Be sure you hire a boat to explore the local coastline it is a great day out and you Our host Jerome was very ftiendly extremely helpful and very knowledgeable about the area. Jerome will help you get the best out of your stay. We will be back to the mixing location

---
Show more ↓