5

Spálne

3

Kúpelne

10

Počet osôb

170m²

Rozloha
Amazing views of the Ionian Islands, Sivota Bay and Bay of Poros
Villa Columba is located in a complex of newly built modern villas near Sivota Bay. This stunning upscale villa has been designed with a myriad of benefits in mind: luxury, privacy, comfort and a spacious environment. Ideal place for sea lovers and for those who want a peaceful break for their vacation. Breath-taking views of the sea and the surrounding islands of Kefalonia, Ithaca (believed to be the birthplace of Homer's Odysseus) and Meganissi are especially beautiful during sunrise and sunset.
The villa is located near Sivota Bay in the South-East of Lefkada Island in a spectacular scenic location. A colourful variety of Greek tavernas and shops can be found in the village of Sivota, only 1.5 km from the Villa. You can rent a boat in the village and enjoy the beauty of the surrounding islands and natural beaches. The villa offers spectacular views of the azure waters of the Ionian Sea. There are vast expanses of Olive groves and flowers in the Villa's garden leaving one in awe of such beauty.
Villa Columba can welcome 10 people very comfortably and potentially a few extra people on extra beds. The house is fully air-conditioned and has its own infinity pool. The villa is cleaned weekly, and linen and towel change every 7 days. Wi-Fi package with a 10€ pre-paid card as a welcome gift from us will give you access to 5G of Data valid for 7 days. This is a 3G device system as no landline is coming to this area.
Private parking is available in front of the villa with a capacity for 4 cars or 2 vehicles with a boat cart.
Villa Columba has located just 1,5km from the village of Sivota. Sivota was originally a home of traditional Greek fishermen families who today are offering a different range of services such as fine taverns, bars, bakeries or markets that are available all season long from 8 am until 12 am. You can walk to the village (15-20 min) or go by car (5-8 min). There is a brand new asphalt road connecting the villa and Sivota village, built-in 2020.
outside
There is a large private 2,60m deep infinity pool (9m x 7,5m) with a spillway, an outside shower and an extraordinary view of the sea. Comfortable sunbeds and umbrellas for relaxing and enjoyable holidays by the pool are available. An outdoor gazebo (pergola) to relax in the shade is provided for those lazy sunny days.
1st floor
The entrance door is opening into the living room and its balcony with one of the best sea views of the residence. The kitchen is linked to the living room with a large dining area with a view of the sea. The kitchen is fully equipped with a refrigerator, an electric stove oven, a dishwasher, coffee makers, a toaster, a kettle, a microwave oven, kitchen utensils and tableware. Finally, there is a large terrace with an astonishing view of the Ionian Sea that will make your breakfast, lunch and dinner that much more special.
At this level, there is one double bedroom with its own balcony and a bathroom. A staircase gives you access to the ground floor and the top floor.
2nd floor
The top floor welcomes 2 double bedrooms with queen size beds and a bathroom with toilets and a shower. One of the bedrooms has an amazing balcony with a view that will make you speechless. A perfect place to meditate, rest, and read while watching the "ballet" of the yachts leaving and entering Sivota Bay.
Ground floor
On the ground floor, there are 2 very comfortable bedrooms with king-size beds. Luxury mattresses that are present in all the rooms will welcome your rest and dreams after a beautiful day sailing or sightseeing around Lefkada island. This floor has 2 bathrooms with a shower each. One of the bedrooms has its own private bathroom. One of the bedrooms has a direct entrance into the garden and the pool area. Finally, a second living room allows welcoming 2-4 extra persons at sofa beds and potential extra mattress we can add upon request.
There is an extra room that can be used as a utility room accommodated with a washing machine, a house vacuum cleaner and an iron with a stand.
COVID Information
In 2020 most of the world faced a new pandemic. In order to stay in business and propose a safe environment for our guests, we decided to work with a professional company. The company is certified ISO 9001-2015. The products used have been certified by a specialised organism and approved as an efficient solution against the Covid virus.
We follow as well the guidelines from The European Commission. The fumigation process is applied after each guest's departure to ensure the safety of the cleaning team and of course of our new guests. These specifics explained the raise in our cost as the safety of our guests is the most important.
99,99% ISO Certified Sanitation by a scientific external partner
Staff protection advanced procedures to avoid contamination and cross-contamination
Well-trained and experienced staff
Certified equipment and detergents
Full documentation and certification are available
Choosing Villa Columba for your vacation is a lifetime experience. Our selected portfolio of partners is ready to provide quality services such as babysitting, chef at home, massages, yoga, boat rentals (sailing or speedboat), car rentals, mountain biking, sea kayaking, scuba diving or hiking in Lefkada hills. Our team is ready to ensure your holidays are just perfect; providing any assistance you may need.
We are looking forward to meeting you and answering any questions you may have.
Lefkada-Travel team
+ Viac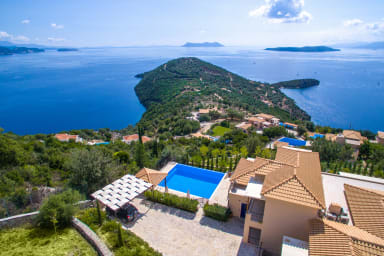 24hod Check-in
Klimatizácia
Antický
Art Déco
Neštandardný
Detská vanička
Detská postieľka
Odporúčanie opatrovateľky
Balkón
Barokový
Barbeque
Bicykel
Mixér
Dok pre pristavenie lode
Knihy
Stropné ventilátory
Vyčistené a vydezinfikované
Kávovar
Vrátnik / Domovník
Bezkontaktný príchod a odchod
Moderný
Denné upratovnie
Umývačka riadu
Dvd prehrávač
Ekologický
Empire štýl
Energy-efficient devices
Základné vybavenie
Hasiaci prístroj
Krb
Balíček prvej pomoci
Upratovanie v cene
Mraznička
Chladnička
Plne vybavená kuchyňa
Záhrada
Centrálna vstupná brána
Uzavretý pozemok
Rukavice k dispozícii
Sušič na vlasy
Bezbariérový prístup
Dezinfekcia na ruky
Vešiaky
Vysoká stolička
Historický
Hi-tech
Vysávač
Výrobník ľadu
Internet
Žehlička
Masážna sprcha
Rýchlovarná konvica
Uspôsobené pre deti
Detský bazén
Vhodné pre prácu s laptopom
Bielizeň, uteráky
Dlhodobý prenájom
Masky k dispozícii
Masáž na požiadanie
Mikrovlnka
Minimalistický
Sieťka proti komárom
Hudobná knižnica
No single-use plastic
No single-use toiletries
Organic food & beverages
Trúba na pečenie
Parkovanie v cene
Domáce zvieratá povolené
Nekonečný bazén
Súkromný bazén
Bazén so slanou vodou
Súkromný vozový park
Osobný kuchár
Súkromný vchod
Profesionálne vyčistené
Romantický
Trezor
Satelit / káblovka
Sauna
Výhľad na more
Bezpečnostný systém
Detektor dymu
Zákaz fajčenia
Spoločenský odstup
Solárium
Zamestnanci používajú ochranné prostriedky
Stereo ozvučenie
Telefón
Terasa
Hriankovač
Tv
Ventilátor
Viktoriánský
Filmová knižnica
Vinica
Práčka
Vhodné na svadby
Drevený
Hodnotenia
Rachel C.

Spojené kráľovstvo

Rachel C.

Spojené kráľovstvo

Lovely villa with fabulous views

Thoroughly enjoyed our two week stay at Villa Columba. Perfect for two families of five each. Comfortable villa, beautiful pool, amazing views. Safe and comfortable environment, car essential. Jerome and his team were so helpful and friendly. Had a fabulous time, would go back in a a heartbeat.

---

Mariana C.

Mariana C.

Lefkada dream villa

We had an excellent vacation to the Vila Columba, Sivota. In every aspect, it overrated our expectations.

---

Alison W.

Spojené kráľovstvo

Alison W.

Spojené kráľovstvo

amazing views. Off the beaten track. StandArd accommodations.

Elena, The rep' was amazing. Very informative and gave us some Great information about this beautiful island. The villa was a little disappointing. Although it had five bedrooms, the interior design is not suited for 10 people, which was the size of our party. The main dining area has to be around the pool (which is down two flights of stairs) because the balcony is very small and cannot sit 10 people (four would be acceptable) because there is a big pillar in the middle of the two balconies. The kitchen is very badly equipped. No ice trays, few pans. A generous welcome pack and some ice would have been nice when we arrived at 10pm. The villa has amazing views which makes up for a lot of what is lacking in terms of luxury items. It is a hellish drive at night if you don't know where you're going, and you cannot walk to Sivota from the apartment- and are no taxis apparently. So you will need to drive from the villa to harbour, which is really lovely. As we said Elena is absolutely lovely and gave us a few good tips about the island, and Jerome was brilliant to deal with pre-booking. We would definitely return to Lefkada and Sivota, but would not return to villa Columba because it is too far off the beaten track, not very well stocked and not suitable for a large party of 10. If you're a party of six and want views to die for and seclusion without luxury, this is place.

---

Troodia G.

Troodia G.

Mrs georgallidi

Simply amazing

---

Catalin S.

Rumunsko

Catalin S.

Rumunsko

Great Villa and view poor small services

The villa has a great view and is well equipped . We were not happy with the lack of extra toilette paper, garbage bags and mid week cleaning.

---

Iorga R.

Rumunsko

Iorga R.

Rumunsko

Best of the best

The villa is super. it has a fantastic view of Sivota. The swiming pool and the house are perfect. We recomand this place for all the people who want an Excellent vacation.

---

Nikolay L.

Nikolay L.

Excellent villas and service

The villas were excellent, we had no problems at all - they're exactly the same as the photos on the website, or maybe even better. It was really easy to work with Jerome, he answered all our questions and really helped us explore the island. Would love to visit the island and the villas again. Wish you all the best!

---

Baraian B.

Rumunsko

Baraian B.

Rumunsko

Great villa

great villa, big rooms, 2 large living rooms, superb and clean infinity pool. kitchen fully equipped, air conditioner in every room. Great view from the balcony.

---

Nanna A.

Nórsko

Nanna A.

Nórsko

Perfect family retreat, you won´t want to leave the house!

The view is breathtaking from this house! To wake up and see the sun rise or set, wach the boats pass by going out from Syvota Bay and enjoying the privacy only accompanied by sicadas-pure joy! Absolutely stunning! Large wonderful bedrooms, all amenities needed for home cooking and laundry. Outdoor patio with plenty of sun beds and seating, both in shade and sun. We were 2 families, 5 teenagers and 4 adults, had plenty of places to withdraw and find peace in the house and outside. Only thing missing was binoculars, I would have loved to see all the yachts and sailboats closer! Bumpy road down to Syvota (as it should in Greece!), gate with remote control. Wonderful landscaping and plants around the house. Syvota Bay wonderful for restaurants. 20 min ride to Nidri. Not a big island, easy acess to hideaway beaches with crystal clear water. Recommend highly! Thank you for a great holiday!

---

Dina M.

Dina M.

Villa Columba

We are just back from our vacation at villa Columba - excellent accomodation, incredible view, cosy rooms and all the facilities you need for enjoyable stay. We were welcomed by the great hospitality of Jerome. He spent time with us to give us usefull information about the island - roads, beaches, places to visit, etc. He was always responsive to any calls and questions. In a few words - we are very happy that we choose to stay in villa Columba, we appreciate the great service and for sure we will be glad to go back there. Specially thanks to Jerome for the hospitality :)

---

Adrian N.

Rumunsko

Adrian N.

Rumunsko

---

Daniel T.

Bulharsko

Daniel T.

Bulharsko

I strongly recommend villa Columba - perfect location, amazing view, well-equipped facilities and...

I strongly recommend villa Columba - perfect location, amazing view, well-equipped facilities and big infinity pool. The only 'drawback' is that you need a car for everything - going to the beach, to a restaurant and to a grocery shop. But in return, you get privacy and serenity ;-)

---
Ukázať viac ↓