Βίλλα
7

Υπνοδωμάτια

6

Μπάνια

12-18

Άτομα

1

Wc

272m²

Επιφάνεια
NEW DISCOUNTS:Luxurious Waterfront Villa for up to 18 people,with 2 private pools,ideal for big groups and isolation!LOTS OF DISCOUNTS
BOOK NOW OUR EXCLUSIVE VILLA & HAVE THE VACATION OF A LIFETIME.CHECK ALL OF OUR OFFERS BELOW:
GET ANOTHER 5% DISCOUNT FOR A 2 WEEK VACATION!
MORE OFFERS FOR ALL SUMMER SEASON 2020:
FOR UP TO 8 PEOPLE ,EARN ANOTHER 30% DISCOUNT,ONLY FOR THE USE OF THE MAIN VILLA.
FOR UP TO 10 PEOPLE ,EARN ANOTHER 20% DISCOUNT,ONLY FOR THE USE OF THE MAIN VILLA PLUS ONE STUDIO.
FOR UP TO 12 PEOPLE ,EARN ANOTHER 10% DISCOUNT,ONLY FOR THE USE OF THE MAIN VILLA PLUS TWO STUDIOS.
A waterfront luxury property at the beautiful bay of Ammuso in Lefkada, Greece. Just 12 minutes drive from the Ammouso beach and taverns , 17 minutes drive from the taverns and night life of Vasiliki ,17 minutes drive from the picturesque village of Sivota and 20 minutes from Nidri.
Private ,luxurious but not isolated, the unique 4700 sqm property is on the edge of the turquoise waters of Ammouso bay Lefkada! Is the ultimate accommodation for a family with friends who want to have a private luxury vacation.
Del Mar was built in 2017 and is located between olive groves and the unspoiled nature, has vast views over the natural garden, Olive trees and the bay of Ammouso.
The owners, have successfully blended it into the lush green nature of the surrounding olive trees grove, the Mediterranean natural plants and the bay without compromising on luxury or modern design.
Children love Villa DEL MAR because of the children's play ground ,the shallow water area in the 15 meter long endless swimming pool or just play around ,discover the natural beauty of the land.
The villa is reached via a dirt road, which is approximately 1 km long from the main road, that will lead you to the main entrance of the property. We do not recommend a car with low-undercarriage!
The natural stone driveway, the spacious pool area and outside sitting areas are hardly visible from the distance, yet the view from each chill-out area is uninterrupted and captivating..
The interior of the villa and the studios impresses with a modern design, large living room windows with views ,all the facilities one may possibly need and a layout that allowing plenty of space for all its residents.
Del Mar main villa consists up to 8 adults with 2 children.
The Calypso studio has a sleeping bed for 2 adults plus 2 children.
The romantic Poseidon studio is suitable for 2 adults.
Our third studio is suitable for 2 adults and is offered for romantic moments.
Each studio has its private bathroom and a kitchenette.
The villa can host up to 18 people.
The main villa : An Open plan luxury villa that consists of 3 bedrooms for 6 adults on the first floor, as well as 2 adults plus 2 children on the second floor .
⦁ 1 bedroom with 1.6/2 m bed , with private bathroom and WC .
⦁ 2 bedrooms with 1.6/2 m bed
⦁ 1 shared bathroom with WC .
⦁ 1 shared wc.
⦁ A fully equipped kitchen consisting of stove, fridge, microwave oven , coffee machine, Dishwasher e.t.c.
⦁ Large living room seating easily up to 12 people
big dining table .
⦁ Cover patio with relaxing area. outdoor dining table end b.b.q
⦁ Private sun beds
⦁ Air conditioning in all rooms
⦁ Flat screen satellite TV in living room
⦁ 3 Hairdryers
⦁ Safe-box
⦁ Fire extinguishers
⦁ wi-fi internet
⦁ Beach sun bed, beach chairs, sun umbrellas – on the big swimming pool .
The villa second floor is optional and includes :
⦁ 1 bedroom with 1.6/2m bed
⦁ shared bathroom and wc
⦁ Hairdryer
⦁ 1 open space with 4 beds or 1 open sofa (170/2)
⦁ AIR CONDITION
⦁ Sea access
⦁ 2 private swimming pools – one cosy pool is on the central balcony of the main
villa and offers a spectacular sea view and the second private large swimming pool (6*15) is located in the large outdoor spaces of Villa Del Mar and invites you to enjoy relaxing moments and a breathtaking endless sea view.
⦁ sun ten balcony with spectacular sea view sun beds and sun
umbrellas.
⦁ Large sun ten open patio with sun beds and sun umbrellas
⦁ Relaxing siting places
⦁ Wi- fi internet , TV, outdoor dining places , wood fire b.b.q
⦁ Water sport on request
Service included
⦁ Bed linen changed twice per week
⦁ twice a week maid service before noon except for Sundays
⦁ Household linen and pool towels changed twice per week
⦁ External areas cleaning twice a week
⦁ Portable camping ice box
⦁ Garden chairs and umbrellas
⦁ Beach sun bed, beach chairs, sun umbrellas
⦁ Swimming pool 6x15 meters.
⦁ Pool area sun beds
⦁ Beach/Pool Towels
⦁ Outside shower (in the Pool area)
⦁ BBQ with all required tools
Services at extra charge
⦁ Private Chef
⦁ Motor yacht or Sailing Yacht Rental
⦁ Hydrotherapy, Massage, Yoga
⦁ Gehhra Water Therapy
⦁ water sports / subs and kayaks
⦁ Household linen and pool towels changed Daily
Wedding Celebrations, Anniversaries & Honeymoons
The property is the perfect backdrop for those special celebrations and events with family and friends.
Celebrating a wedding, a wedding anniversary or looking for the perfect place for your honeymoon? The property offers you a magical and romantic setting; along with extensive facilities to host your guests and family for the ceremony
The LefkadaHolidayRentals team will be there to support you and make your dream holiday a reality!
AMA NUMBER: 00000548090
+ Περισσότερα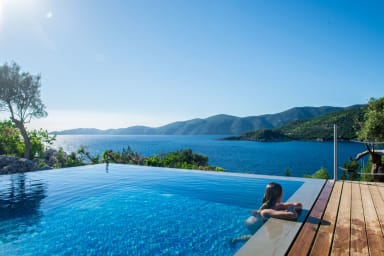 Exclusive Luxurious Waterfront Villa Del Mar
Exclusive Waterfront villa with large pool and sea view
Huge swimming pool with amazing sea view
Relaxing sea view from the huge luxurious pool
Relax by the large pool of luxurious Villa Del Mar
Enjy your holidays in Luxurious Villa Del Mar
Spacious luxurious living room with stunning view
Balcony with private pool and stunning view of the large pool and sea!
Stunning View from the private pool of the main Villa!
Relax in the balcony of Luxurious Villa Del Mar and enjoy the stunning view!
Have your breakfast and gaze at the sea!
Comfortable outdoor sofa with a sea view
Luxurious living room and fully equipped open kitchen with stunning view!
Spacious luxury living room, dining space and open space fully equipped kitchen
Spacious luxurious living room and fully equipped open kitchen
Fully equipped kitchen with island
Enjoy your breakfast in the fully equipped open space kitchen
Fully equipped open space kitchen
Spacious luxury living room and open space kitchen with stunning sea view
Independent Studio of Villa Del Mar with kitchenette
Independent Studio of Villa Del Mar with kitchenette for up to 4 ppl
Kitchenette and private bathroom of independent studio of Villa Del Mar
Modern luxurious bathroom of the studio of Villa Del Mar
Independent Studio of Villa Del Mar with kitchenette
Independent Studio of Villa Del Mar with kitchenette
Independent Studio of Villa Del Mar with kitchenette
Enjoy the stunning sea view from the large pool fof Luxury Modern Villa Del Mar
Enjoy traditional mezedes by the large pool
Relax in the private pool of luxury Villa Del Mar
Gaze the sea from the large pool of Villa Del Mar
Gaze the sea from the large pool of Villa Del Mar
Have fun at the large swimming pool of Villa Del Mar
Enjoy traditional mezedes by the large pool
Enjoy stunning sunsets from your balcony and private pool
Celebrate summer with friends or family in Modern Luxury Villa Del Mar
24ωρη υποδοχή
Air Conditioning
Antique
Art Deco
Atypical
Baby bath
Baby crib
Babysitter recommendation
Μπαλκόνι
Baroque
BBQ
Ποδήλατο
Μπλέντερ
Αποβάθρα
Βιβλία
Ανεμιστήρες Οροφής
Παιδικές Κούνιες
Cleaning and disinfection
Στεγνωτήριο
Καφετιέρα
Θυρωρός
Contactless check-in and check-out
Contemporary
Καθημερινό Καθάρισμα
Πλυντήριο Πιάτων
Dvd Player
Ecological
Empire
Energy-efficient devices
Είδη πρώτης ανάγκης
Πυροσβεστήρας
Τζάκι
Κουτί Πρώτων βοηθειών
Δωρεάν Καθαριότητα
Καταψύκτης
Ψυγείο
Πλήρως Εξοπλισμένη Κουζίνα
Παιδικά Παιχνίδια
Κήπος
Περίφραξη
Gated property
Gloves available
Πιστολάκι Μαλλιών
Πρόσβαση ΑΜΕΑ
Hand sanitizer
Κρεμάστρες
Highchair
Historical
Hi-tech
Ηλεκτρική Σκούπα
Παγομηχανή
Internet
Σίδερο
Jacuzzi
Βραστήρας
Ασφαλές για παιδιά
Παιδική Πισίνα
Επιφάνεια Εργασίας για Laptop
Πετσέτες,κλινοσκεπάσματα
Ενοικίαση Μεγάλης Διάρκειας
Masks available
Μαζάζ κατόπιν Παραγγελίας
Φούρνος Μικροκυμμάτων
Minimalist
Σίτες για Μύγες και Κουνούπια
Μουσική Βιβλιοθήκη
No single-use plastic
No single-use toiletries
Organic food & beverages
Φούρνος
Συμπεριλαμβάνεται Parking
Επιτρέπονται τα κατοικίδια
Ιδιωτική Πισίνα
Ιδιωτικό Πάρκινκ
Ιδιωτικός Σεφ
Private entrance
Professionally cleaned
Romantic
Χρηματοκιβώτιο
Δορυφορική ή Καλωδιακή
Σάουνα
Θέα στη Θάλασσα
Σύστημα Ασφαλείας
Ανιχνευτής Καπνού
Απαγορεύεται το Κάπνισμα
Social distancing
Solarium
Προσωπικό
Staff wear protective equipment
Στερεοφωνικό σύστημα ήχου
Τηλέφωνο
Ταράτσα
Τοστιέρα
Τηλεόραση
Ανεμιστήρας
Victorian
Βιβλιοθήκη Βίντεο
Vineyard
Πλυντήριο
Γάμος
Wood
Κριτικές
Eleni M.

Eleni M.

Ideal for relaxation..for big families and friends!

Luxurious Villa,totally secluded,ideal for big families and friends...with playground and BBQ by the pool...large outdoor spaces outside and stylish interior with 2 pools... especially the one downstairs is enormous... Anna was easy to communicate and very professional... helped us in everything we needed.. I will definitely come back in the future!

---